Road to Zero
As part of the Government's "Road to Zero" strategy, the Office for Low Emission Vehicles (OLEV), have announced that from 24th of July 2018, the Workplace Charge Scheme (WCS) will increase from £300 per point, to £350 per point. Thus reaffirming their commitment to increase the number of chargers available to EV and Hybrid drivers.
Up to now companies have been able to apply for vouchers from OLEV. This includes up to 75% off each point installed. Vouchers were originally capped at £300, up to a maximum of 20 points. This cap has now been increased to £500. Companies are now also allowed to submit multiple voucher applications until they reach their limit of 20 points.
OLEV Workplace Charge Scheme
For those of you not aware of the OLEV Workplace Charge Scheme , it is a very simple and accessible scheme, to encourage companies to provide electric vehicle charge points for their employees. The online form can be filled in and uploaded online. Once approved, OLEV will send you the approved value in vouchers which are redeemable through your OLEV approved installer. 
Finding the charger which best suits your needs and making sure it is future proofed, is not always the easiest thing to do, especially if you are unsure what it is you are looking for.
What MEGA EV can do for you
At MEGA EV we are more than happy to guide you through the process. Our website contains a wide selection of commercial chargers which are eligible for the WCS. We are more than happy to speak to you on the phone or via email to discuss your needs. We can also carry out a site visit to give you a quotation for the installation of your chargers.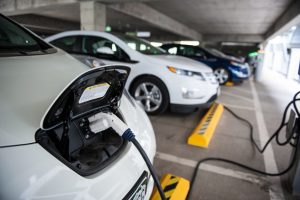 The Future
Once again the government is showing it's commitment to forcing through the change, from fossil fuel vehicles, to a more environmentally friendly alternative. Couple the increase in the WCS and the availability of the Home Charge Scheme, it is obvious that their "Road to Zero" strategy is aimed at not only achieving the targets they have set, but to beat those targets by some margin. which is already offering grants of up to £500
With an announcement over the last few days backing up promises with funding, it seems that the movement towards Electric Vehicles may be well under way.
Electric vehicles may well be the future, but the future is quickly becoming the present.