Auto Express Car of The Year Awards
This week, Auto Express awarded Jaguar's first electric car, the I-Pace, Car of The Year 2018.
Jaguars latest big cat SUV beat the BMWi3 and the Tesla Model S, to win the premium electric car of the year category, and then went on to take the overall title.
Jaguar's first foray into the electric car market has proved to be a very successful one so far, with the I-Pace winning praise from everyone who has had the chance to drive one. The sleek lines of the I-Pace make it a truly stunning looking vehicle, and coupled with the quality of the interior and the performance stats, this really is an electric car.
With a 0-60mph time of 4.5 seconds and a range of almost 300 miles the new I-Pace is truly bringing electric vehicles to the forefront. This is the first electric car to win a major award outright in the UK.
Jaguar – Electric Car
Ian Callum, Director of Design for Jaguar, said: "We are delighted to pick up such a prestigious accolade for our first all-electric Jaguar. We started with a blank canvas and the goal of creating the world's most desirable electric vehicle and recognition like this from Auto Express shows that the I-Pace certainly meets that challenge. What I'm most proud of is that we have created a Jaguar first and foremost, a Jaguar that happens to be electric. The I-Pace has all of the stunning design cues, characteristics and breadth of dynamic capability that is inherent in our vehicles. It is the Jaguar of the future, here today."
Other Result were as follows:
Affordable Electric Car of the year 2018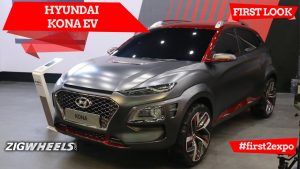 Winner – Hyundai Kona
Runners up – Nissan Leaf and Volkswagens eGolf.
Affordable Hybrid Car of the year 2018
Winner – Hyundai Ioniq Plug in
Commended – Mini Countryman Cooper S
Premium Hybrid Car of the year 2018
Winner – Volvo XC60T8 Twin Engine
Commended – BMW 530E and Range Rove PHEV
If you're interested in investing in an electric car, we can help with both domestic and commercial charging points. Check out our featured product, the EO Mini.
With the OLEV government grant available, you can get £350 off. Read more about this here.